Lincoln Motor Company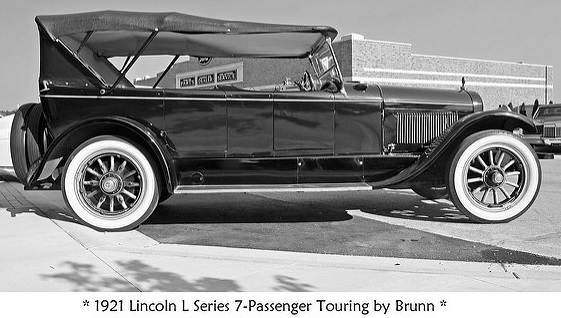 The Lincoln Motor Company (also known simply as Lincoln) is a division of the Ford Motor Company that sells luxury vehicles under the Lincoln brand. Founded in 1917 by Henry M. Leland, Lincoln became a subsidiary of Ford in 1922, but is now a division of Ford. While currently sold primarily in North America, Ford introduced the Lincoln brand to China in 2014. Lincoln vehicles are also officially sold in the Middle East and South Korea.
The current Lincoln model range in North America consists of two sedans (Continental and MKZ), three crossover utility vehicles (MKC, MKT, and MKX), and a sport utility vehicle (Navigator/Navigator L). Lincoln also sells two vehicles specifically for limousine/livery use, both based on the MKT.
Henry Ford's son, Edsel (1893-1943), was instrumental in convincing his father to buy Lincoln and played a significant role in its development as Ford's first luxury division. Edsel Ford had succeeded his father as company president in January 1919, after the elder Ford resigned following a disagreement with a group of stockholders. However, father and son soon managed to purchase the stock of these minority investors and regain control of the company. One of Edsel Ford's major contributions as president of Ford was the styling of cars, which he believed could be good-looking as well as functional. His push for style upgrades to the Model T eventually helped to convince his father to drop his famous rule: "You can have any color, as long as it's black." (The Model A, successor to the Model T, was available in a variety of colors from the start.)
The Lincoln Motor Company was founded in August 1917 by Henry Leland and his son Wilfred. An engineer, Henry Leland named his new automobile company after Abraham Lincoln, the first presidential candidate for whom he had cast a vote (in 1864). As the United States was still involved in World War I, the primary source of income for the company was military contracts; Lincoln co-assembled Liberty V12 aircraft engines, using cylinders supplied by Ford Motor Company, along with Buick, Cadillac, Marmon, and Packard.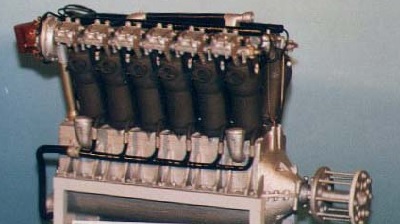 The Liberty Engine was America's greatest industrial achievement of the First World War. Designed in a matter of weeks, built, tested and put into full production in a matter of months, the Liberty Engine was a deliberate effort to combine the best proven aero-engine technologies of the day to produce a powerplant of superior performance that was also easy to manufacture and maintain.
Faced with the need for rapid production of aero-engines, the U.S. Government had two options. They could encourage private companies to design, develop and produce an engine, or they could have the U.S. Bureau of Standards put together a team of the best from many companies to work together to design an engine incorporating the best proven ideas of the day. This they did and succeeded admirably.
Ultimately, experts from most of the major American automobile manufacturers as well as the Army, Navy and U.S. Bureau of Standards contributed ideas to the design and production of the Liberty Engine. The original design team was headed by Packard's Chief Engineer, Jessee Vincent, and E.J. Scott of the Hall-Scott Motor Company.
The U.S. Government set them up in a suite of rooms at the Willard Hotel in Washington, D.C. Armed with official drawings of currently operational engines from the European war, Vincent and Scott held marathon design sessions. In a few weeks, aided by consultants and draftsmen brought in from their own and other companies, they had a working design for a Vee 12 engine.
Since no company was going to profit from the design and development, all contributed expertise, personnel and even heretofore jealously guarded trade secrets toward the development. As a result, 26,500 engines were ordered with contracts going to Ford, Cadillac, Lincoln, Packard, Nordyke, Marmon, Buick, Willys-Overland and Trego Motors. Involvement of the U.S. Bureau of Standards in the design process insured parts made by dozens of sub-contractors from Connecticut to California all fit and ran perfectly together.
The design was started in late May of 1917, barely more than a month after America's entry into the war. The prototype engine passed its 50-hour durability test on 24 August, 1917. Of the 26,500 ordered, 15,572 were produced by December of 1918. The patriotic contributions of valuable personnel and trade secrets by the companies involved attests to the spirit of the day as well as the potential of American industry to meet and overcome challenges.
The Liberty engine was used to power American DH-4 Liberty planes in both the recon and bomber roles. It also went on to be used in several late war designs such as the DH.9a Ninak, which served the RAF into the1930s. The Liberty engine came into its own post-1918 when it was used on many record breaking flights during the 1920s. The US Navy's Trans-Atlantic NC-4 flying boats, the Army's Transcontinental Fokker T.2 and the globe-circling Douglas World Cruisers all required the power and reliability of the Liberty engine to achieve their well-earned places in aviation history.
Alongside aircraft engine production, Lincoln produced its first automobile in 1917, the Lincoln Model L. Powered by a V8 engine, the Model L was marketed as a luxury automobile, competing against other American luxury car manufacturers. Following the end of the war, the Lincoln factory was retooled entirely for automobile production.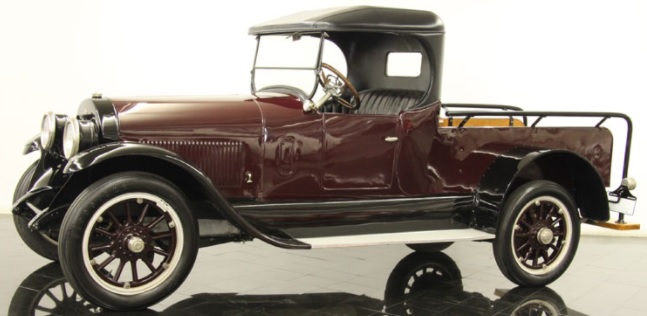 During the early 1920s, Lincoln suffered severe financial issues, balancing the loss of revenue of Liberty engine production with the obsolete design of the expensive Model L. After having produced only 150 cars in 1922, Lincoln Motor Company was forced into bankruptcy and sold for $8,000,000 to the Ford Motor Company on February 4, 1922; some of the proceeds of the sale went to pay off its creditors.
For Henry Ford, the purchase of Lincoln was a personal triumph, as he had been forced out of his second company (Henry Ford Company) by a group of investors led by Leland. The company, renamed Cadillac in 1902 was purchased by General Motors in 1909, serving as the chief competitor to Lincoln. While Henry Ford had previously introduced Ford-branded luxury vehicles (the Ford Model B in 1904, the Ford Model F in 1905, and the Ford Model K in 1906), the company found little acceptance. With the acquisition of Lincoln, the nameplate became a top-selling rival alongside Pierce-Arrow, Marmon, Peerless, Duesenberg, and Packard.
Although the chassis itself saw few major changes (with its L-head engine and unusual 60-degree cylinder block), the body saw significant updates. At the direction of Henry's son Edsel, in 1923 several body styles were introduced, that included two- and three-window, four-door sedans and a phaeton that accommodated four passengers. They also offered a two-passenger roadster and a seven-passenger touring sedan and limousine, which was sold for $5,200. A sedan, limo, cabriolet, and town car were also offered by coachbuilders Fleetwood, Derham and Dietrich, and a second cabriolet was offered by coachbuilder Brunn. Lincoln contracted with dozens of coachbuilders during the 1920s and early 30s to create multiple custom built vehicles, to include American, Anderson, Babcock, Holbrook, Judkins, Lang, LeBaron, Locke, Murray, Towson, and Willoughby in the 1920s. Murphy, Rollston, and Waterhouse were added in the 1930s.
Vehicles built by these coachbuilders went for as much as $7,200, and despite the limited market appeal, Lincoln sales rose about 45 percent to produce 7,875 cars and the company was operating at a profit by the end of 1923.
In 1924 large touring sedans began to be used by police departments around the country. They were known as Police Flyers, which were equipped with four-wheel brakes, two years before they were introduced on private sale vehicles. These specially equipped vehicles, with bulletproof windshields measuring 7/8 of an inch thick and spot lights mounted on the ends of the windshield, also came with an automatic windshield wiper for the driver and a hand-operated wiper for the front passenger. Police whistles were coupled to the exhaust system and gun racks were also fitted to these vehicles.
Optional equipment was not necessarily an issue with Lincolns sold during the 1920s, however, customers who wanted special items were accommodated. A nickel-plated radiator shell could be installed for $25, varnished natural wood wheels were $15, or Rudge-Whitworth center-lock wire wheels for another $100. Disteel steel disc wheels were also available for $60. Lincoln chose not to make yearly model changes, used as a marketing tool of the time, designed to lure new customers. Lincoln customers of the time were known to purchase more than one Lincoln with different bodywork, so changing the vehicle yearly was not done to accommodate their customer base.
On December 3, 2012, Ford changed the name of the Lincoln division to The Lincoln Motor Company, after the cancellation of the Mercury Division. To help differentiate Lincoln-branded products from Ford-branded products, Ford established unique design, product development and sales teams for Lincoln. In addition to the name change, the Lincoln Motor Company was to introduce several all-new vehicles in the years to come. The first of these new vehicles was the second-generation MKZ, which went on sale in early 2013. Ford appointed Jim Farley to lead The Lincoln Motor Company.
In 2014, Lincoln staged a brand launch in China and brought medium-sized luxury sedan MKZ and small premium SUV MKC into China. The brand aimed to have a dealership network of 60 Lincoln Stores in 50 cities and introduce five models (MKZ, MKC, medium-large sized SUV MKX, full-size SUV Navigator and full-size sedan Continental) to China by the end of 2016. Lincoln plans to produce luxury SUVs in China by the end of 2019, and sales on imported vehicles jumped nearly 180% in 2016. To cater Chinese consumers, Lincoln also introduced "The Lincoln Way," a car purchase and ownership model which provides highly personalized services to customers. In North America, Lincoln is offering special versions of its products, under the "Black Label" program, with features and specially selected materials designed for each vehicle. Effective September, 1, 2014, Kumar Galhotra, Ford's former vice president of engineering was appointed as the president of Lincoln.
In the United States, Lincoln's sales have continued to rise. In 2014, Lincoln's US sales increased 16%, about twice that of the premium market average. This was followed by a 7% increase in 2015 and another 10% increase in 2016. The increases were partly because of the popularity of the all-new MKC crossover.
Lincoln Motor Company Unissued 100 Shares Stock Certificate $39.00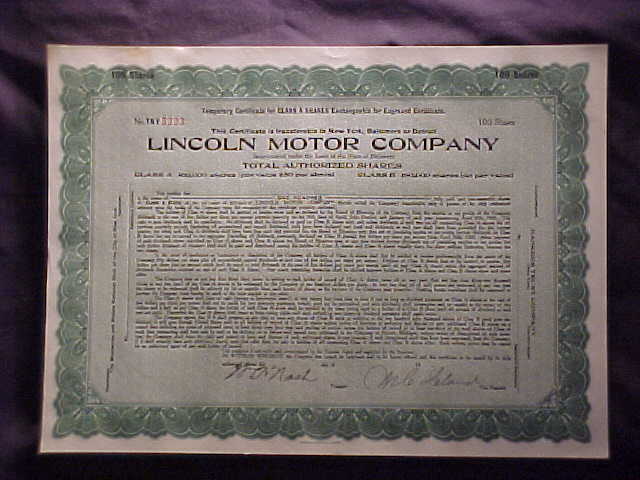 Lincoln Motor Company issued 50 Shares Stock Certificate $39.00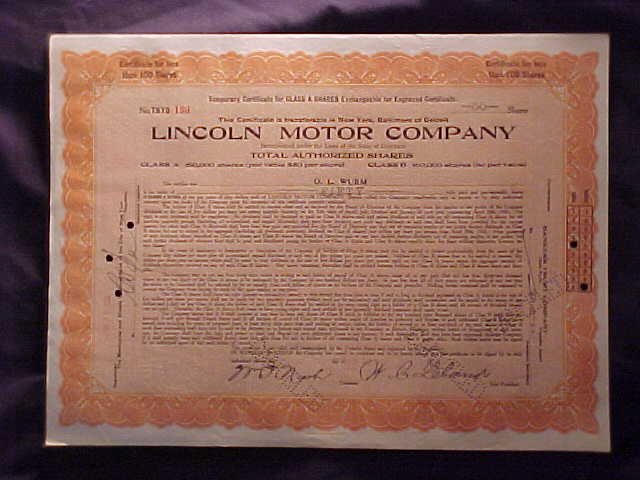 Prices are while supply last!