Some interesting facts about Red Bell Brewing.
Philadelphia's Hometown Beer Since 1993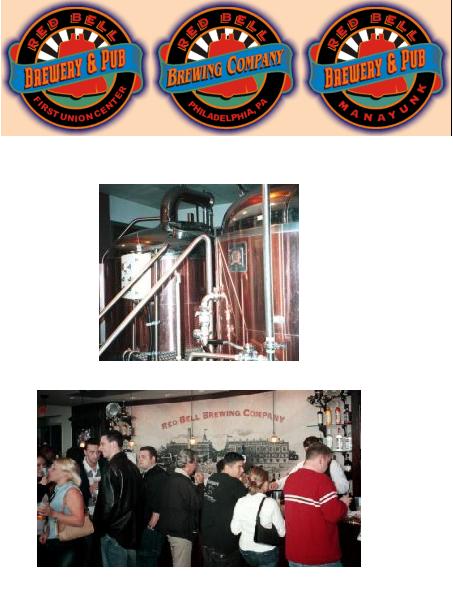 Makers of Philadelphia Original Lager and Other Fine Brews
Head quarters were located: 3100 West Jefferson Street, Philadelphia, PA 19121
The Red Bell Beer Company had brews Philadelphia Original Lager, Philadelphia Light Lager, Irish Amber Ale in kegs, and their Original Lager in bottles. Red Bell also had brews a selection of specialty beers that are available on a limited basis. These include, American Pale Ale, Black Cherry Stout, Hefe-Weisen, Wee Heavy Scotch Ale and Ahopalyspe.
Wachovia Center
Philadelphia
Home to Flyers & 76ers
Were open 1 hour before scheduled events

Red Bell Brewing Company and its wholly owned subsidiaries had engage in the manufacture, bottling, distribution, and sale of beer, primarily in the mid-Atlantic region. The company produces a variety of distinctive craft beers ranging in color from light to dark. All of its beer is brewed in accordance with the German purity law, Reinheitsgebot, which stipulates that all beer is made from four traditional ingredients: water, hops, yeast, and malted barley. Its principal beer brands consist of Philadelphia Original Light, Lemon Hill Wheat, Philadelphia Original Lager, Philadelphia Irish Amber, Red Bell Heffe-Weizen, American Pale Ale, Black Cherry Stout, Philadelphia Black & Tan, Wee Heavy Scottish Style Ale, and Ahopalypse Now. Red Bell sells beer to wholesalers, retailers, and beer distributors. The company offers the sale of beer primarily in four states and the District of Columbia. Besides, Red Bell's First Union Center brew pub provides an on-premise brewery experience that entertains and satisfies its guests. This pub also assists local bars, restaurants, and beer distributors in their efforts to sell company's product line. Red Bell markets its hand-crafted ales and lagers through a third party independent distribution network. The company had competed with Victor's Club, Budweiser, Miller, Coors, and Samuel Adams
In 1998 Red Bell President James R. Bell signaled the opening of the Old English-styled brewpub by cutting a ribbon and inviting all visitors, travelers and airline and airport personnel to relax and refresh in the new facility. Philadelphia estimates that over 60 million people annually utilize Philadelphia International Airport.
"Red Bell was 100% Philadelphia," Bell said. "Located in the city, brewed in the city and owned by many local men and women who believe in the viability of a locally-produced, quality micro brew, the new airport location will offer people from around the world the unique taste of Philadelphia -- the taste of Red Bell."
Located in the heart of the new US Air B-C Connector food court and shopping mall at Philadelphia International, the Red Bell Brewery & Pub will offer visitors breakfast, lunch and dinner items seven days a week from 7 a.m. to 10 p.m.
The handsome facility features a generous amount of wood finishings, high tin and copper ceilings, brass trim, warm lighting, comfortable seating and first-class, Philadelphia-style service.
"We feel that Red Bell is an extension of the city," Bell noted. "We want every visitor at our airport brewery & pub to enjoy a positive image of Philadelphia, whether arriving, departing or just assisting friends or loved ones who are travelling by air."
Issued / uncancelled but worthless security.
This stock could some day be worth as much as the Ringling Brothers stock certificate because of its beauty & the Ringling stocks have sold for $300 to $1,000!!!!!!!!
You can buy an old collectible Red Bell Brewing Stock Certificate by clicking on picture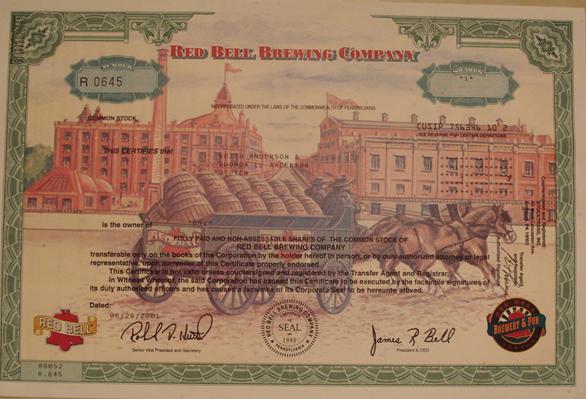 You can buy an old collectible Red Bell Brewing Stock Certificate by clicking on the above picture
or clicking add to cart button below to pay using paypal
Red Bell Brewing
*Rare*Issued*
Sale Price $85
Red Bell Brewing Company Locations used to be.
Once stock and bond certificates were considered wallpaper after companies had gone bankrupt or out of business. Today they offer financial history to collectors in the hobby with some nice pictures on the certificate. Many are from all kinds of companies that could make a great collectable gift for birthdays or holidays for that stockbroker or stock market investor.
Places in Philadelphia that you used to be able to get a RED BELL BEER:
The main location was the First Union Center
in Philadelphia where the 76ers & Flyer's play!
These other locations used to carry the beer:
25th Street Cafe
Anthony's (Market)
Arena's
Artful Dodger
Benningan's (Cottman)
Best Western Hotel (Parkway)
Billy Murphy's Irish Saloon
Bistro St. Tropez
Bridget Foy's Southe Street Grill
Brigid's
Bumpers
Carver's Saloon
Cavanaugh's
Chaucer's
Cheers to You
Chickie and Pete's
Coco Pazzo
Dawson St. Pub
Downey's
Elephant and Castle
Fatso Fogarty's
Finnegan's Wake
Franklin Plaza Hotel
Grey Lodge
Holiday Inn (4th & Arch)
Illana's
Kellian's
Leneghan's (Chestnut)
Mad Mex
McCrossen's Tavern
Monk's Cafe
Moriarty's
Pat's Cafe
Philadelphia Airport
Philadelphia Bar and Grill
Players Pub
Plough and Stars
Rachut's Tavern
Rib-IT (Grant) & (Walnut)
Sea Pot Inn
Shampoo
Society Hill Hotel
South Street Blues
Spaghetti Warehouse
The Blarney
The Irish Bards
The Irish Pub (11th)
The Irish Pub (20th)
The Rose Tattoo
TLA
Tony's Place
Westy's
White Dog Cafe
Red Bell Brewery
RED BELL Head Brewmaster was James T. Cancro
Red Bell Beer:
Philadelphia Original Light
Lemon Hill Wheat
Strawberry Mansion Wheat
Philadelphia Original Lager
Philadelphia Irish Amber
RED BELL Vienna Style Lager
India Pale Ale (IPA)
American Pale Ale
RED BELL Black Cherry Stout
Philadelphia Black & Tan
Wee Heavy Scottish Style Ale
You used to be able to take a tour visit of the RED BELL brewery in Historic Brewery Town of Philadelphia. The historic brewerytown was located around the corner from the Philadelphia Zoo. Dale Van Wieren of Keystone Tap wrote about RED BELL:
"Strangely you can still hear the horses hooves on pavement, an active inner city stable being located in what could have been some brewery's home for draft horses. And perhaps even more bizarre, after a 60 year lull, the aroma of brewing can once again be detected in the neighborhood. It isn't the ghosts of brewers past conjuring up beer in historic F.A. Poth Brewery at 31st and Jefferson Streets. The new sign on top of the building proclaims that "RED BELL Company Welcomes You to Historic Brewerytown.""
O'Well the ghosts are back because the Brewery is no longer there because they ran into financial troubles.
Call the Brewery at 1-888-REDBELL
Well the number did not work!
Red Bell Brewing Co.'s securities registration has been revoked by the SEC following repeated failure to file required annual and quarterly reports with the Securities and Exchange Commission. Thus the company violated a crucial provision of the federal securities laws that requires public corporations to publicly disclose current, accurate financial information so that investors may make informed decisions. The revocations were ordered in an administrative proceeding before an administrative law judge.
Red Bell Stock Certificates are worthless shares of stock, but are a collectible piece of financial history.
keywords: Breweries, Organizational history, Malt beverages, Securities issued, listed, Beer and ale, Beer & Ale in Bulk, Beer, Red Bell Brewing Company

About Collecting: Old, canceled, "worthless" stock you find in Grandpa's attic might not be so worthless after all. Serious attention didn't begin to be paid to this subject until around 1976, following the publication of two carefully researched catalogs in Germany listing and illustrating the bonds issued in pre-revolutionary China and Russia, which were followed in 1978 by the issuing of monthly price lists by stamp dealer Stanley Gibbons, who also started to hold a series of public auctions. By 1980, Sotheby's, Christies and other London auction houses hopped on the bandwagon, achieving very successful results, as did the New York house of R.M. Smythe, holding the first ever U.S. auction devoted solely to vintage bonds and stocks. Today, some 30,000 collectors worldwide are active in this rapidly exploding field. An auction record was set this year when a Massachusetts collector paid $36,300 at a Smythe auction for the oldest known surviving stock certificate, dated June 7, 1783. Several elements go into the appreciation of these documents -- primarily the historic and the aesthetic. Many of the older examples were printed in several colors and featured fine engraving embellished with ornate, beautifully executed decorative devices and, treated as rare, numbered, limited editions, they are now often framed and hung on the walls of offices. Printed via methods similar to the way in which currency is produced, they boast sharp detail attained through the use of fine, continuous lines. Many collectors focus their attention on one particular industry. One of these is gold and silver mining stock certificates, superior examples of which, especially those relating to the California Gold Rush of 1849, are in great demand, as well as diamond and coal mines. The other two members of the top three are the building of American railways, beginning in 1830, and automobile companies. Among the secondary fields are electricity, water, oil, tobacco, textiles, coffee and tea, to name just a few.
Other collectors focus on a specific period of time or historic area, such as pre-1800, or Confederate bonds and other American Civil War material, or on particular governments like imperial China or czarist Russia.
Another segment of the scripophily community is more focused on design elements -- say in the art nouveau or art deco style. There are also a number of well-known printers whose productions are sought after, among them the British Waterlow & Sons, and Bradbury Wilkinson and De La Rue,and the American Bank Note Company in this country, the latter of which incorporated several other companies starting in 1858. Each firm employed a number of specialist engravers -- some, for example, concentrated on portraits (the most demanding), others on vignettes depicting, landscapes, buildings, trains, etc., while still others were responsible for the elegant lettering found on these certificates. Since so many historically important industrialists signed the documents of their companies, these autographs become yet another prime factor in collecting scripophily. John D. Rockefeller, who started the Standard Oil Company of Ohio in 1862 (for an initial investment of $4,000) is a choice example. Others include Commodore Cornelius Vanderbilt, one of the great railroad magnates, Henry Wells and William Fargo, J.P. Morgan, Thomas Edison, and various members of the Rothschild family, as well as notables from other areas, such as P. T. Barnum, Johann Strauss and Johann von Goethe.

I do not sell stock certificates as an investment, but rather marketed as historic documents. Single share certificates were purchased from a registered broker-dealer that is not affiliated with me.
I nor any other person associated with me is associated with a broker-dealer.
These single share certificates are marketed as historical documents as gifts, not investments. These collectible stock certificates are sold for at least twice the value of the underlying share of stock. Single share certificates will be written or stamped on the back "non-redeemable" and "non-transferable."
Thank you for visiting eOldStocks.com
Copyright ) 2001-2012 eOldStocks.com. All rights reserved.